Event Elegance: Discovering the Premier Banquet Halls in Sanchore, Rajasthan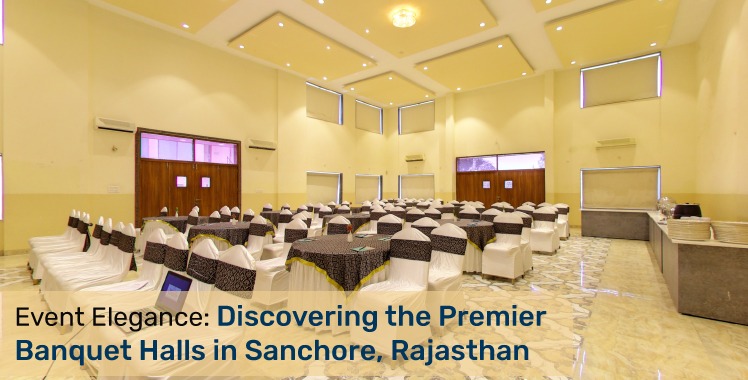 Host Events in Style at Sanchore's Best Banquet Hall
Are you reluctant to host your businesses next corporate event or a wedding in the family in Sanchore because of limited or nil luxurious banquet facilities? If so, you are mistaken and probably need to do through research. Sanchore in Rajasthan is often confused as another rural city of Rajasthan that lacks modern and plush amenities. It is assumed that this "Royal" state of India is exclusively reserved only for hosting grand weddings at the forts and palaces. However, the hospitality of Sanchore in Rajasthan has expanded and boomed over the years to include one of its kind celebrations and ceremonies at banquet halls.
Are you wondering where?
Well, it is none other than at Hotel Kaushal International. Hotel Kaushal International is a popular 3 star hotel in Sanchore with top notch facilities, you wouldn't find elsewhere in Sanchore. We are nestled in the heart of bustling Sanchore with easy access from the airport as well as the railway station. We are a reputed hotel, which stands as a testament to Rajasthan's tradition of warm reception with a dash of opulence.
Hotel Kaushal International boasts a versatile venue as it has the ability to meet the unique requirement of every visitor. From cosy room stays to tasteful cuisines and spacious banquet halls, every corner of Hotel Kaushal International exudes sophistication and elegance. At our hotel, we except guests all year round for a stress-free weekend getaway with your family, to relish the appetising meals at our in-house restaurant or to host unforgettable events at our banquet halls. We wouldn't be lying, when we say we have the best banquet hall in Sanchore!
The banquet halls at Hotel Sanchore International exhibit a marvellous appeal with regal interiors and world-class amenities. Every hall can comfortably adapt to various events ranging from intimate gatherings, to lavish weddings, corporate seminars and cultural celebrations. Every banquet hall is designed with a versatile layout that can accommodate a sizeable guest list with classy décor ensuring an impeccable service for the guests. Additionally, the banquet hall is equipped with state-of-the-art lighting and sound systems to enhance the ambience and making it a memorable event.
Along with the amenities, the professional staff at Hotel Kaushal International have left no stone unturned in paying meticulous attention to the furnishings. The plush seating, projectors and mic for corporate events, elegant drapery and exquisite table settings create an atmosphere of sophistication. Once you book our best banquet hall in Sanchore, a team of experienced event planners will also provide assistance with coordination and management for a seamless event execution.
While speaking of events, we cannot ignore the most important aspect, i.e. food! The catering service at our banquet halls is a culinary delight, offering a diverse menu with flavourful local and international cuisines. We guarantee your guests are going to love the food served and crave for more!
The Banquet Halls at Hotel Kaushal International:
1.Royal Banquet Hall: A banquet hall located at the lobby level of the hotel with a theatre-style seating. This hall can accommodate up to 350 guests and has easy access from the ground floor staircase area.
2.Orlov Banquet Hall: Another classic banquet hall which is located at the lower lobby level of the hotel. This hall can accommodate 350 guests in a theatre-style seating as well as in banquet style.
3.Time Out Disc: Located at the lower lobby level of the hotel, the Time Out Disc is a perfect venue for small gatherings or corporate events. The hall can host up to 100 guests in a theatre style seating arrangement or in a banquet style.
4.Celebration Lawn Venue: The lawn of the hotel is the most beautiful and aesthetic location of the hotel. This is perfect venue to host marriage, wedding reception, a corporate party or a social gathering. The Celebration Lawn has a capacity of minimum 500 and maximum 1200 guests.

Therefore, if you are looking for a memorable event that offers to you a luxury and convenience, you must book Hotel Kaushal International today!